Villa Vergissmeinnicht - Family Guesthouse Antananarivo-Antsobolo (near RN2)
self catering or hotel service - solar-heated pool - garden terraces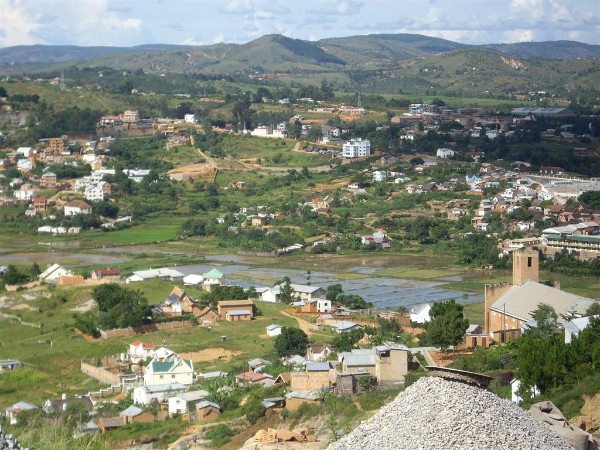 Antsobolo village & Villa Vergissmeinnicht with cluster of trees (front left)
How to find us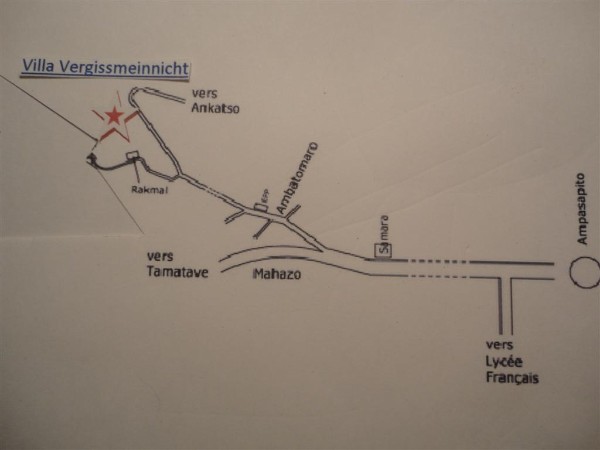 Villa Vergissmeinnicht Family Guesthouse Antananarivo-Antsobolo (ISPM) is 25 km/15 miles from Antananarivo-IVATO-airport direction East-coast / Tamatave (route nationale RN2).
When reaching the suburb of Mahazo (0,5 km before the Clinique Médico-Chirurgale Adventiste on the RN2) take the junction at the pharmacy toward Akanjo / Ambatomaro to your right. Look out for a road sign "Antsobolo (ISPM) - Villa V" on the wall to your right.
Just follow the road direction ISPM / Bibilava for 1.5 km - past the taxi- / bus-station (147bis) and Ambatomaro police station. Look out for 2 big white sign-stones with red frame on the road-side in front of a brick wall at the Y- junction at "bus stop 'Rakmal - Villa V". This will lead you to us. On your way down the road you will pass 2 more sign-stones "VILLA V" after 500m and 800m.
Taxi-drivers at the airport might find the following 4 hints to be of help: RN2, police Ambatomaro, Route Bibilava, ISPM (Institut Supérieur Polytechnique de Madagascar).
For assistance please call Miss Sandra on 032 050 1947 or 034 050 1947 - she will instruct your driver.
Look us up on Google:
https://www.google.de/maps/@-18.9108022,47.5694509,208m/data=!3m1!1e3
For booking and more please contact Mademoiselle Sandra:
email: villavergissmeinnicht@yahoo.fr or: villavergissmeinnicht@gmail.com
phone: + 261 32 050 1947 and + 261 34 050 1947
https://www.facebook.com/villavergissmeinnicht.guesthouse
VILLA V Antananarivo (Antsobolo) - a relaxing experience in a spectacular landscape

VILLA V familiäres Gästehaus Antananarivo Antsobolo (ISPM) liegt 25km vom Flughafen Ivato entfernt. Anfahrt Richtung Tamatave/Ostküste (Nationalstrasse RN2) bis zur Stadtgrenze. In Mahazo (ca. 0,5km vor Erreichen der Clinique Adventiste und der Stadtgrenze) die Abzweigung rechts nach Akanjo / Ambatomaro nehmen. Nach der Apotheke ("Pharmacie" ) ist ein Wegweiser "Antsobolo (ISPM) - VILLA V" rechts an der Mauer zu sehen. Die Anfahrt in Richtung Technische Hochschule (ISPM) ist ca. 1,5km und führt vorbei an der Taxi- und Busstation 147 und dem Polizeiposten von Ambatomaro. An der Bushaltestelle Rakmal/VILLA V, gibt es eine Y-Abzweigung mit 2 grossen Wegweisern vor einer roten Backsteinmauer. Dem Pfeil auf den weissen Hinweis-Steinplatten mit rotem Rand folgen. Auf dem Weg gibt es nach 500 und 800m noch 2 weitere Platten, die Sie zur VILLA V leiten.

A 25km de l'aéroport Ivato "Chambre d'Hôtes familiale VILLA V Antananarivo-Antsobolo (ISPM)" se situe à côté de la RN2 (la route nationale qui donne vers la Côte Est - Tamatave). Vous prenez à droite à la pharmacie de Mahazo (0,5km avant d'arriver à la Clinique Adventiste de Soamanandrariny). Vous entrez sur la route qui donne vers Ets. Akanjo / Ambatomaro et Institut Supérieur Polytechnique de Madagascar (ISPM). Sur votre droite il y a un panneau sur le mur "Antsobolo (ISPM) - Villa V - 1,5km" . Vous passez la station de taxi et bus 147bis et le poste de Police d'Ambatomaro pour arriver à l'arrêt de bus "Rakmal / VILLA V" ou la route se divise en forme Y. Là il y a 2 panneaux de pierre blanche avec cadre rouge devant des murs en briques qui vous dirigent vers nous. Vous passez encore 2 panneaux à 500m et 800m avant d'arriver à la "Villa Vergissmeinnicht Antananarivo-Antsobolo (ISPM)".

A 25km del aeropuerto Ivato "Casa de Huespedes de familia VILLA V Antananarivo-Antsobolo (ISPM)" se encuentra al lado de la RN2 (ruta nacional entre Tana y la costa este - Tamatave). Conduciendo sobre la RN2, 0,5km antes de llegar a la Clinique Adventiste de Soamanandrariny hay que tomar la derecha cuando se llega a la pharmacia de Mahazo y continuar 1,5 km pasando la parada 147 de bus/taxi y el puesto de policia de Ambatomaro hasta llegar a la senalizacion "VILLA V".

25km miala ny seranam-piaramanidina Ivato, ary amin'ny lalana makany amin'ny lalam-pirenena faha 2 Tamatave ary 30 minitra raha miala ny renivohitra no misy ny Villa V Antsobolo. Raha tonga eo amin'ny fivarota-panafody Mahazo dia mivily an-kavananana. Miditra makany amin'ny lalana ETS Akanjo Ambatomaro na koa any amin'ny lalana makany amin'ny ISPM. Mandalo ny tobin'ny Polisy Ambatomaro ary aveo mivily amin'ny sampanana « Rakmal ». Eo ianao no mahita « panneau » izay ahitana soratra manondro makaty aminay. Mandroso hatrany ianao ary mbola mahita « panneau faha 2 » misy manondro ny VILLA V alohan'ny hahatongavanao aty aminay.