Villa Vergissmeinnicht - Family Guesthouse Antananarivo-Antsobolo (near RN2)

self catering or with service - solar-heated pool - garden terraces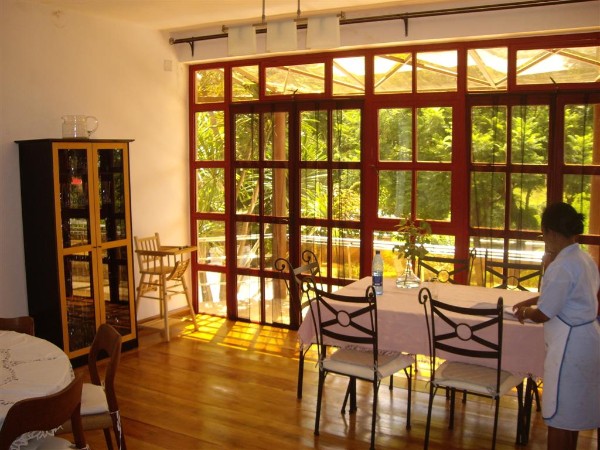 breakfast and dining-room

Rates & more
New Price list 2021 - prices for groups on demand only
= valid from 11-2020 =
Rates (all rooms with terrace, WC/shower, TV, Wi-Fi, wall-safe, double bed) :
- Mosquito protection with beds and windows -
( Accommodation only. Rates for 1 guest and 1 night)
RAVINALA apartment, large bathroom - 23 €
BAOBAB apartment (kitchen on demand) - 23 €
KORN bungalow (kitchen on demand) - 23 €
BLUME bungalow - separate bathroom - 23 €
( Extra guest or kitchen in bungalow / apartment : 5 € )
IRIS 20m² room in the villa - 29 €
ROSE 60m² room in the villa - 44 €
JASMIN 25m² room on 1st floor in the villa - 44 €
( Additional guest in rooms - ROSE, IRIS, JASMIN : 10 € )
General information
The bungalows KORN and BLUME can be unified and rented as double bungalow KORNBLUME.
The rooms ROSE and IRIS can be unified and rented as 100m²-suite (with a vestibule).
There are 2 relaxation-areas in the garden: a large open-air terrace under the branches of big trees at the side of the pool and a bright glass-roofed corner with 3 tables beside the small garden-bar. The large breakfast-terrace at the orther side of the garden is roofed and has a pizza oven and grill. Some 60 guests may be seated and served on the terraces. The garden area is open for visitors between 10 a.m. and 5 p.m.
Guests seeking exclusive use of the villa and garden can book a "Total Privacy Arrangement" with us.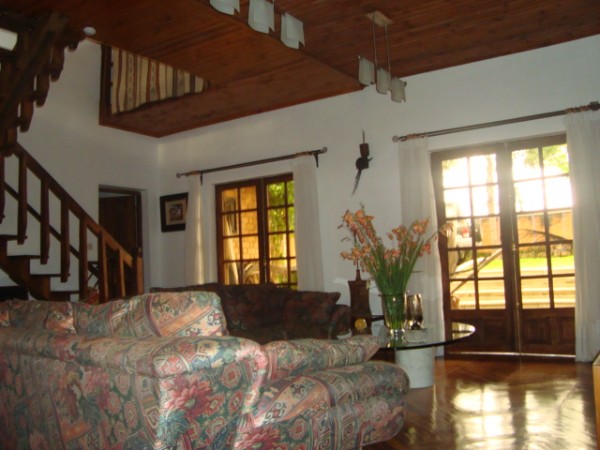 living room with open fireplace
Family Guesthouse Villa Vergissmeinnicht Antananarivo-Antsobolo (ISPM) Madagascar is a highly comfortable family-guesthouse which is open 7/7,
WiFi, fitness equipment, pool, snooker and parking are free of charge.
Opening hours 7 am to 8:30 pm
Check-in-time: 12 am to 6 pm
Check-out-time: 7 am to 11 am
Meal times:
Breakfast between 7 - 9:30 am
Lunch between 12 a.m. - 2:30 pm
Dinner between 6 p.m. - 8:30 pm
Menus:
Breakfast 15000Ar (3,00 €), Breakfast Villa V - 25000Ar (5 €)
Lunch 40000Ar (8 €), Dinner 55000Ar (11 €)
Half-board 55000Ar (11,00 €), Full-board 72500 (14,50 €)
Children -12 : 1/2 (half price)
Special services (hairdresser, dishwashing etc.) on demand :
Massage (relax 45 min.) as from 5000Ar (10 €)
Washing & ironing (5 kg): 35000Ar (7 €)
Its layout and extraordinary surroundings make Villa Vergissmeinnicht Family Guesthouse Antananarivo-Antsobolo (ISPM) also an ideal place for private parties and receptions with up to 60 persons ( seated ) .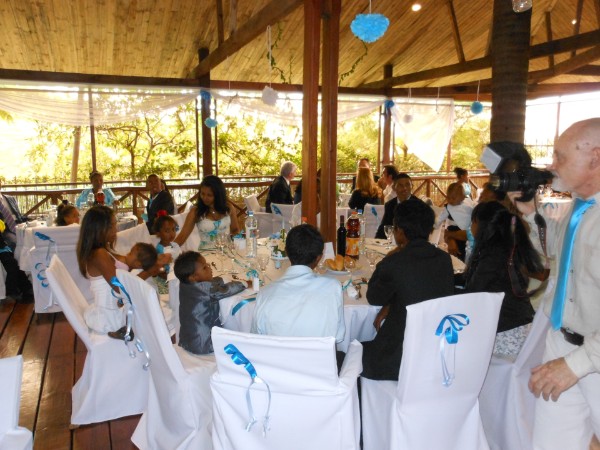 Wedding party on garden-terrace VILLA V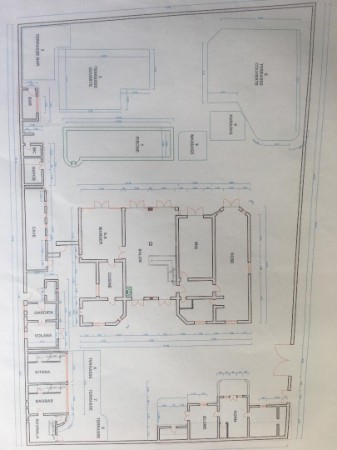 Layout of Villa Vergissmeinnicht - lodgements, pool, bar and garden terraces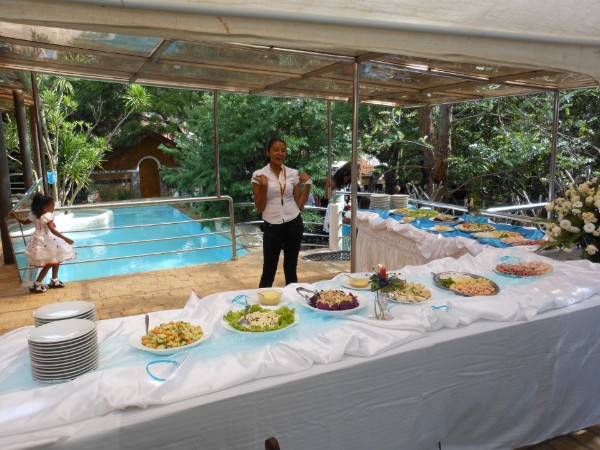 A small place with many options - Villa Vergissmeinnicht
Car rental as from 175000Ar - 35 €/day (with driver / longterm rate)
Airport taxi is 125000Ar (25 € ) + 50000Ar (10 € between 8:30 pm - 6:30 am)
Our cancellation policy:
You will receive your booking confirmation by e-mail immediately after receipt of your deposit of 50% of the total price to our German bank account (with SEPA transfer generally the following day).
If you cancel within 48h after receipt of our booking confirmation we will return your deposit (less bank expenses) generally within one week.
If you cancel until the 30th day before the rental date, you will be refunded 50% of your deposit (less bank expenses) generally within one week. Should you have transferred less than 25% of the total price you would not be reimbursed.
In the event of a cancellation, which reaches us after the 30th day before the date of your arrival, you will no longer be refunded the requested reservation amount.
Since the rental price is due in advance, the balance due after the transfer of the deposit should be transferred in good time before your arrival, or paid in cash on the spot at the latest on the day of your arrival. Unfortunately, credit card payments are not yet possible with us. However, there are ATMs and banks in the neighbourhood where you can withdraw cash with your card.
For booking and more information please contact us:
email: villavergissmeinnicht@yahoo.fr or villavergissmeinnicht@gmail.com
phone: + 261 32 050 1947 and + 261 34 050 1947
https://www.facebook.com/villavergissmeinnicht.guesthouse
VILLA V Antananarivo (Antsobolo) - a relaxing experience in a spectacular landscape

Allgemeine Hinweise für unsere Kunden
Zimmerpreise für 1 Person. Jeder weitere Gast wird mit + 5 €/Nacht (in Bungalows und Apartments) bzw. + 10 € (Räume in der Villa) berechnet. Bei Langzeitaufenthalten ist die Abholung vom Flughafen kostenlos (sonst 25 € + ggfls. 10 € Nachtzuschlag). Wir sind 7/24 für Sie da ( reguläre Öffnungszeiten sind : 7h bis 20:30h. Unsere lokalen Mitarbeiter sind auch davor und danach sehr gern für Sie da ). In der Trockenzeit (Mai bis Oktober) kann es gelegentlich zu Ausfällen bei Strom- und Wasserversorgung kommen. Wir haben einen Generator und Reservoirs, aber ein moderater Resourcenverbrauch ist angebracht. Neben den im o.a. englischen Text genannten "Table d'Hôtes" - Menu-Mahlzeiten servieren wir ihnen natürlich auch zu anderen Zeit das Gewünschte à la carte. Gäste, die die Villa exklusiv für sich reservieren möchten, können das im Rahmen unserer Option "Total Privacy" (+ 93 €) buchen. Die Benutzung der Villa und ihrer Einrichtungen ist für unsere Gäste kostenlos. Selbstversorgung über Frühstücksküchen ist im Bungalow KORN und Apartment BAOBAB möglich (+ 5 €). Auf unseren Garten-Terrassen können wir kleinere Feiern und Empfänge für bis zu 90 Personen ausrichten (60 Sitzplätze).

Les prix des chambres sont pour 1 voyageur individuel (+ 5 €/nuitée par voyageur additionel au bungalows / appartements ou + 10 € dans les chambres à la villa) . Le transfert de l'aéroport à la villa est 25 €. Il est offert pour des longs séjours. Une majoration de 10 € s'applique entre 8:30 pm et 6:30 am. Notre horaire d'ouverture est de 7h jusqu'à 20h30. Pourtant, nos services sont disponibles 7/24 pour tous vos besoins. Pendant l'hiver (mai à octobre) les services de Jirama -électricité et l'eau- peuvent être irréguliers. Nous avons un groupe électrogène et des réservoirs. Le bungalow KORN et l'appartement BAOBAB sont équipés avec une petite cuisine à gaz pour ceux qui veulent l'autosuffisance (+ 5 €). Les clients qui optent pour réserver la villa en exclusivité peuvent choisir notre formule "total privacy" (+ 93 €). Nos clients jouissent tous les prestations de la Villa gratuitement. Nous organisons aussi votre fête familiale ou réception jusqu'à 90 personnes (60 personnes assises).

Notas informativas para nuestra clientela:
Tarifa de habitación para 1 persona. Para cada huésped adicional se cobran + 5 €/noche (en bungalows y apartamentos) o €10 (en habitaciones de la Villa). Para estancias de larga duración, la recogida del aeropuerto es gratuito (si no es €25 + €10 por traslados nocturnos). Estamos de servicio para usted 7/24, pero también tenemos un horario de apertura regular: de las 7H hasta las 20:30h. En la epoca seca (de mayo a octubre) puede haber interrupciones ocasionales en el suministro de electricidad y de agua. Se ruega respectar el medio ambiente y moderar el consumo de agua e energía en todas las epocas. A parte del menu "table d ' hôtes"- ofrecemos las comidas mencionadas en el texto anterior en inglés o segun la carta del menu en cualquier otro momento. Los huéspedes que deseen alquilar la Villa de forma exclusiva para ellos solamente pueden hacerlo mediante nuestra opción "total Privacy" (+ € 93).

Isaky ny efitrano dia ahitana trano fidiovana, fahitalavitra, kojakoja rehetra, ary Wi-Fi
Ny faharetan'ny fivahiniana dia in-droa alina fara-fahakeliny.
Ny hofan'ny trano dia natao ho an'ny olona iray, izany hoe raha misy olona hafa mihoatra dia miampy sandany 5€ ny hofan'ny efitra, raha toa ka amin'ny efitra ivelany Villa (ie Bungalow) ary 10€ kosa ho an'ny efitra anatin'ny VILLA.
Ny saran'ny fitaterana miala ny seranam-piaramanidina ka hatrany amin'ny VILLA dia manodidina ny 25€, raha toa ka maharitra ny fijanonana, izany hoe mihoatra ny roa herinandro, dia mahazo tolotra maimaimpoana tsy mandoa io saram-pitaterana io ny mpivahiny.
Ny ora fisokafan'ny VILLA dia amin 'ny 7 ora maraina ka hatramin 'ny 8 ora sy sasany hariva.
Mandritra ny ririnina (volana May ka hatramin'ny Oktobra) dia misedra olana eo amin'ny tsy fahampian-drano sy herinaratra toy ny vahoaka malagasy rehetra izahay, saingy niomana kosa ny amin'ny tobim-pitehirizan-drano sy ny angovo tsotra mamokatra herinaratra raha sendra misy ny olana.
Ao amin'ny efitra KORN sy BAOBAB dia ahitana fitaovan-dakozia ahafahana mikarakara sakafo manokana amin'ny sarany mirary 5€/isan'andro.
Misy ny tolotra manokana ho an'izay manofa ny VILLA V manokana, izany hoe ny toerana manontolo, ary amin'ny sarany mirary manomboka amin'ny 93€. Ny olona rehetra mivahiny kosa dia afaka misitraka ny tolotra rehetra.
Manampy amin'ny alalan'ny fanofàna fiara sy fiarakaretsaka ihany koa.