Villa Vergissmeinnicht - Luxury Guesthouse Antananarivo-Antsobolo (ISPM)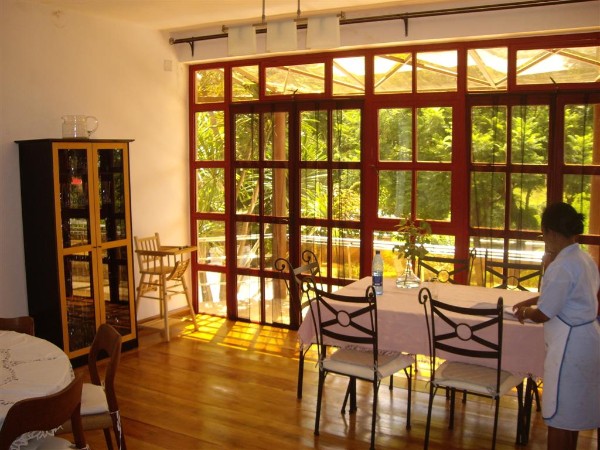 breakfast and dining-room

Rates & more
New Price list 2018 - prices for groups on demand only
= valid from 11-2017 =
Rates (all rooms with WC/shower, TV, Wi-Fi, safe and terrace):
( Rates as per 1 guest only. Additional guest 5 € / 10 € extra)
RAVINALA° (2+1 guests) apartment, big bathroom - 18 €
BAOBAB° (2+1 guests) apartment with kitchen - 18 €
°) Reduction when both apartments are combined)
KORN* (2 guests) bungalow, kitchen - 18 €
BLUME* (2 guests) bungalow - 18 €
*) Reduction when both bungalows are combined )
IRIS* (2 guests) room in the villa - 21 €
ROSE* (2 guests) 60m² room in the villa - 36 €
*) Reduction when combined as 100m² suite
JASMIN (2 guests) room on 1st floor in the villa - 36 €
You can enjoy the full comfort of the villa independant of the type of room you rent.
General information for our guests
There are 3 terraces for relaxation in the garden: an open-air bistro-coffee-terrace at the side of the pool and a thatched-roof resto-terrace with pizza oven and grill at the farther side of the garden. Some 60 guests may be seated and served on these terraces. Pool and terraces are open to the general public between 10 a.m. and 5 p.m. The upper parts of our premises are accessible for hotel-guests only.
Hotel-guests seeking exclusivity can book a "Total Privacy Arrangement" with us.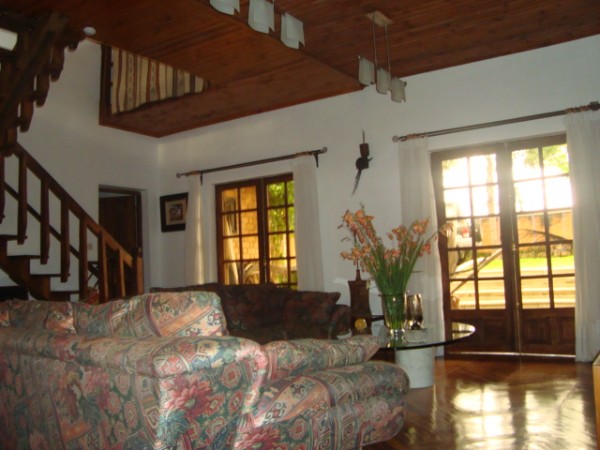 living room with open fireplace
Villa Vergissmeinnicht Luxury Guesthouse Antananarivo-Antsobolo (ISPM) Madagascar is a highly comfortable hotel-guesthouse which offers 24/7 room and restaurant service, wifi, fitness equipment, pools, snooker and parking free of charge.
Opening hours 7 am to 8:30 pm
Check-in-time: 12 am to 6 pm
Check-out-time: 7 am to 11 am
Late arrivals/early departures 12.000 Ar p.p. (3 €)
Meal menus are served at following times:
Breakfast between 7 - 9:30 am
Lunch between 12 a.m. - 2:30 pm
Dinner between 6 p.m. - 8:30 pm
Food prices:
Breakfast 12000Ar (3,00 €), Breakfast Villa V - 20000Ar (5 €)
Lunch 32000Ar (8 €), Dinner 44000Ar (11 €)
Half-board 44000Ar (11,00 €), Full-board 58000 (14,50 €)
Children -12 : half price
Special services like hairdresser, dishwashing etc. are offered on demand, f.expl.:
Massage (relax 45 min.) as from 30000Ar (7,50 €)
Washing & ironing (6 kg): 28000Ar (7 €)
Its business concept and extraordinary surroundings make Villa Vergissmeinnicht Luxury Guesthouse Antananarivo-Antsobolo (ISPM) also an ideal place for private parties and receptions of up to 100 persons ( 60 seated ) .
The use of billard, pools / fitness installations / Wi-Fi etc. is free for our guests.
Car rental 4x4 as from 140000Ar - 35 €/day (longterm)
Airport collect is 80000Ar (20 € ) + 40000Ar (10 € between 7 p.m. - 7 a.m.)
For booking and more information please contact Mademoiselle Sandra:
email: villavergissmeinnicht@yahoo.fr or villavergissmeinnicht@gmail.com
phone: + 261 32 050 1947 and + 261 34 050 1947
https://www.facebook.com/villavergissmeinnicht.guesthouse
Villa Vergissmeinnicht-Antsobolo (ISPM) - a relaxing experience in a spectacular landscape

Allgemeine Hinweise für unsere Kunden
Zimmerpreise für 1 Person. Jeder weitere Gast wird mit + 5 €/Nacht (in Bungalows und Apartments) bzw. + 10 € (Räume in der Villa) berechnet. Bei Langzeitaufenthalten ist die Abholung vom Flughafen kostenlos (sonst 20 € + ggfls. 10 € Nachtzuschlag). Wir sind 7/24 für Sie da, haben aber auch reguläre Öffnungszeiten: 7h bis 20:30h. Unsere lokalen Mitarbeiter sind auch davor und danach sehr gern für Sie da. In der Trockenzeit (Mai bis Oktober) kann es gelegentlich zu Ausfällen bei Strom- und Wasserversorgung kommen. Wir haben einen Generator und Reservoirs, aber ein moderater Energieverbrauch ist angebracht. Neben den im o.a. englischen Text genannten "Table d'Hôtes" - Menu-Mahlzeiten servieren wir ihnen natürlich auch zu jeder anderen Zeit das Gewünschte à la carte. Gäste, die die Villa exklusiv für sich mieten möchten, können das im Rahmen unserer Option "Total Privacy" (+ 60 €) buchen. Die Benutzung der Villa und ihrer Einrichtungen ist für unsere Hotelgäste kostenlos. Selbstversorgung über Frühstücksküchen ist im Bungalow KORN und Apartment BAOBAB möglich (+ 5 €). Auf unseren Garten-Resto-Terrassen können wir kleinere Feiern und Empfänge für bis zu 100 Personen ausrichten (60 Sitzplätze).

Le prix de chambre est pour 1 voyageur individuel (+ 5 €/nuitée par voyageur additionel au bungalows / appartements ou + 10 € dans les chambres à la villa) . Le transfert de l'aéroport à la villa est 20 €. Il est offert pour des longs séjours. Une majoration de 10 € s'applique entre 7pm et 7am. Notre horaire d'ouverture est de 7h jusqu'à 20:30h. Pourtant, nos services sont disponibles 7/24 pour tous vos besoins. Pendant l'hiver (mai à octobre) les services de Jirama -électricité et l'eau- peuvent être irréguliers. Nous avons un groupe électrogène et des réservoirs. Le bungalow KORN et l'appartement BAOBAB sont équipés avec une petite cuisine à gaz pour ceux qui veulent l'autosuffisance (+ 5 €). Les clients qui optent pour réserver la villa en exclusivité peuvent choisir notre formule "total privacy" (+ 60 €).Nos clients de hôtel jouissent tous les aménitiés de la Villa gratuitement. Nous organiserons aussi votre fête familiale ou réception jusqu'au 100 personnes (60 personnes assises).