Villa Vergissmeinnicht - Family Guesthouse Antananarivo-Antsobolo (near RN2)
self catering or with service - solar-heated pool - garden terraces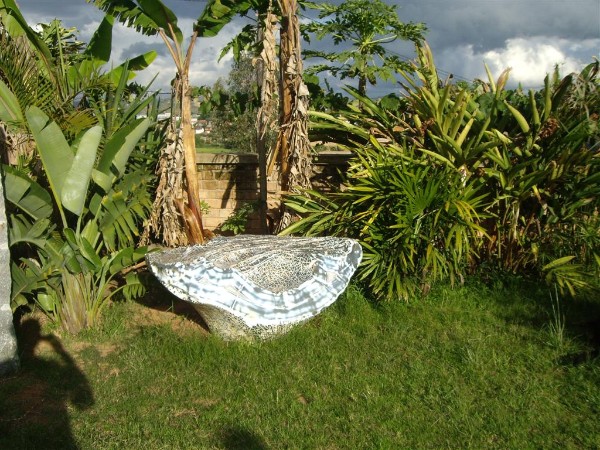 What to visit round and about Madagascar's capital
"B&B-Chambre d'Hôtes familiale Villa V Antananarivo Antsobolo (ISPM)" is situated close to the route nationale RN2 where it leaves Antananarivo's suburb of Mahazo direction East coast / Tamatave (Toamasina).
The RN2 winds through a beautiful hilly landscape until it reaches the Rainforest of Andasibe after 2 hours drive. There you can watch lemurs in their natural habitat (best very early in the morning).
A visit to the Zoo of Zimbazaza gives a glimpse at lemurs right in the centre of Antananarivo. A still better inlook offers an excursion to the Lemurs Park at 30 km distance on the RN1 where you can watch 9 species living freely in a beautiful botanic garden of 5 hectares .
At 25km north of Villa Vergissmeinnicht the Royal City of Ambohimanga, summer residence of the queens of Madagascar is not to be missed. A visit to the Croc Farm close to the Ivato airport is also entertaining.
The city centre with its hustle, colourful markets and great ethnic diversity is reached in less than 30 minutes.
The list of places to be visited in the city itself is long enough to keep you busy for a good few days. The most popular ones are the markets of Analakely and Andravoahangy, Lizzy's art boutique, the Royal Rova, the Palais de la Reine, the Pirates Museum etc.
While in town you may have lunch at the fashionable "Café de La Gare", a beer in the "Buffet du Jardin" (Hotel Colbert) or an afternoon tea on the terrace of Hotel Pallisandre from which you have a view over the Analakely market. The greatest view over the city and the surrounding hills offers the terrace of the Grill du Rova (best at sunset). Before returning to Villa Vergissmeinnicht at night listen to some popular live-music in the Hotel Glacier, Analakely (don't stay too late, never mind the girls, be polite and beware of pickpockets - watch the show and enjoy great malagasy rhythms, dance and music).
At Villa Vergissmeinnicht Family Guesthouse Antananarivo-Antsobolo (ISPM) Madagascar you can relax, enjoy a bath in the sun and in the pool, or have an espresso on one of the café terraces, listening to music or answering your emails while sitting in the garden under the shady branches of a jacaranda tree.
You are welcome to order your food at any time during the day. If you feel like eating out we will assist you in reserving your table at one of the renowned or fashionable restaurants of your choice.
For those interested in leaving a trace: a mining pit where men work like in ancient times is in walking distance and granite products made for export may be seen and ordered in an exposition nearby. A visit to one of the 18 villages for the poorest erected by AKAMASOA the humanitarian organisation founded by Père Pedro can be arranged. There is also a small school to be visited next door which takes in about 200 children who otherwise would be on the streets. Last year it received some help through donations organised by former visitors of Villa Vergissmeinnicht.
Antsobolo and Bibilava mining pit: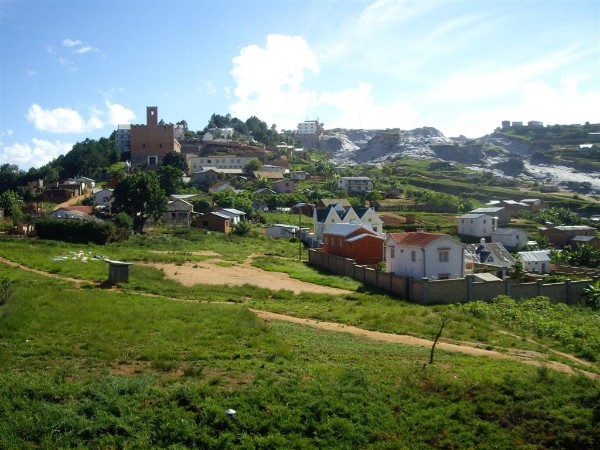 To enjoy your tours in and around town we recommend to rent a car with driver. At Villa Vergissmeinnicht we have special rates which apply for clients only. We arrange also for trustworthy taxidrivers at fixed rates. There are a bus stop 147b and taxi station up the road. Well visible road signs will guide you on your way back to Villa V Family Guesthouse Antananarivo Antsobolo (ISPM).
Don't hesitate to come to us, even if you chose a different guesthouse, or if we were unable to accommodate you due to existing reservations. Villa V Family Guesthouse Antananarivo-Antsobolo (ISPM) is worth a visit and don't forget to bring your swim-suit and camera. Let us assure you that you will hardly find more relaxing nature at any hotel-guesthouse in Antananarivo. We are constantly developing new ideas to improve our standards in order to give you the best possible holiday-value while in Antananarivo.
For booking and more please contact us:
email: villavergissmeinnicht@yahoo.fr and villavergissmeinnicht@gmail.com
phone: + 261 32 050 1947 and + 261 34 050 1947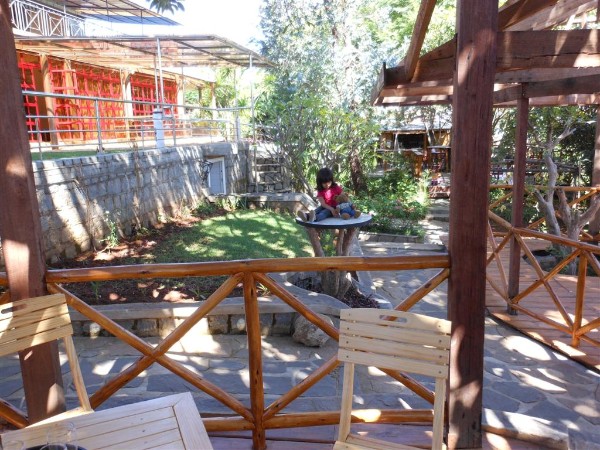 https://www.facebook.com/villavergissmeinnicht.guesthouse
Villa V Antananarivo (Antsobolo) - a relaxing experience in a spectacular landscape

Villa Vergissmeinnicht liegt am Stadtrand unweit der Nationalstrasse RN2, von wo aus es besonders einfach ist, den 120km entfernten Regenwald von Andasibe zu besuchen, oder weiter an die Küste Richtung Tamatave zu fahren. Die Fahrt dort hin ist sehr reizvoll. Andere Ausflugsziele sind neben den Sehenswürdigkeiten der Innenstadt wie Rova-Palast, Zoo usw. der Königinnenpalast von Ambohiimanga, der Lemurenpark, die Krokodilfarm u.a. In der Innenstadt gibt es nette Plätze, um gut zu essen, Kaffee, oder Bier zu trinken und die Vorbeigehenden zu beobachten. Angaben zu Restaurants und andere Informationen erhalten sie ad hoc von uns. Die Anmietung eines Pkw mit Chauffeur, oder die Vermittlung eines vertrauenswürdigen Taxifahrers übernehmen wir gern für Sie. Übrigens ist die Villa Vergissmeinnicht selbst ein Ausflugsziel, so dass Sie uns auch dann besuchen sollten, wenn Sie nicht bei uns logieren.

Villa Vergissmeinicht se situe à côté de la route nationale RN2, reliant la capitale et la côte Est. Le parc de réserves naturelles d'Andasibe avec la forêt tropicale, ses différentes plantes endémiques et des lémuriens est à 120km seulement. Après encore 4 heures de route dans un impressionnant paysage avec une descente serpentine on arrive à la ville de Tamatave avec son beau climat et son ambiance tropicale.Quant à la capitale nombreux sont les lieux touristiques à visiter: le "Rova", le Palais de la Reine, le jardin zoologique et botanique de Tsimbazaza, la résidence d'été de la Reine à Ambohimanga, le parc des crocodiles "Croc Farm", le parc de lémuriens "Lemurs Park" etc. Il y a beaucoup des restaurants, bistros etc. que nous pouvons vous recommander sur demande. Nous avons des voitures à louer, ou on va vous proposer des chauffeurs de taxi fiables. Villa Vergissmeinnicht est aussi un point d'intérêt pour autres visiteurs de la capitale.

Villa Vergissmeinnicht se encuentra en las afueras de la ciudad, cerca de la carretera nacional RN2, desde donde es particularmente fácil visitar la selva tropical de Andasibe (a 120km), o continuar hasta la costa este hacia Tamatave. El viaje sobre esta ruta es especialmente atractivo. Otros destinos incluyen los lugares de interés del centro de la ciudad como el Palacio de Rova, el parque zoológico Zimbazasa etc., el Palacio de la reina de Ambohiimanga, el Parque Lemur, la granja de cocodrilos, etc. En el centro de la ciudad hay buenos sitios adonde comer bien, tomar el café, o una cerveza y observar los transeuntes. La información sobre restaurantes y otra informaciónes se pueden obtener ad hoc de nosotros. Estamos a su disposicion para alquilarles coches con chófer o organizar taxistas de confianza. Por cierto, Villa Vergissmeinnicht es en sí mismo un destino, por lo que deberia visitarnos incluso si no ha alquilado una habitacion con nosotros.

VILLA VERGISSMEINNICHT dia manakaiky indrindra lalam-pirenena faharoa na RN2, izay lalam-pirenena mampitohy ny renivohitra sy ny faritra Atsinanana. Anisan'ny andalovana amin'io lalam-pirenena io ny Valan-javaboahary Andasibe 120 km, azo tsidihana tsara, ahitana ireo karazana zava-maniry tsy fahita sy ny biby manamarika an'ny madagasikara anisan'izany ny karazan-gidro « Lemuriens ».
Ny eto an-drenivohitra kosa dia maro ireo toerana azo tsidihana toy ny: « Ny Rova Manjakamiadana» na "Palais de la Reine". Ny , Valan-javaboahary Tsimbazaza, ny Rovan' Ambohimanga, izay lapan'ny Mpanjaka sy Andriana fahiny, ny "Croc Farm" na toerana manokana ho an'ny mamba na voay (crocodile), "Lemurs' Park" izay ahitana manokana ny gidro mampiavaka indrindra an'i Madagasikara, sy ny toerana samihafa fisakafoanana, sns… afaka manome torohevitra tsara ny "VILLA V" raha mila fanampiana ny vahiny momba an'izany. Mampanofa fiara manokana ihany koa izahay sady afaka manampy amin'ny fitadiavana fiarakaretsaka raha toa ka ilaina. "Villa Vergissmeinnicht" dia toeram-pialantsasatra feno ho an'ireo mpitsidika ny renivohitra.